World Wide Demonstration 5.0 Shinjuku Tokyo Nov 21st 2021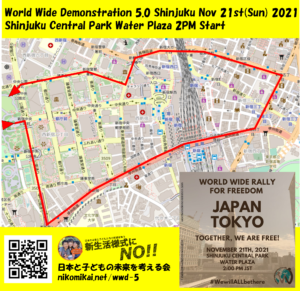 Overview
Starting from Shinjuku Central Park Water Plaza at 2:00PM, ending at Shinjuku Central Park North Entry around 3:10PM (rain or shine).
Please read the note.
Note
Raincoats will be recommended in rain (buy one in 100 yen shop) when rain is expected. Umbrellas would bother other people.
Pictures and videos will be published. If you don't want to show your face you should wear Sunglasses or hats etc to cover your face.
You can bring placards which comply with intent of the demo, also you can bring non-battery powered megaphones. Nikomikai can lend some placards. Bringing banner-flag is strictly forbidden.
Showing group names except Nikomikai with any sign is prohibited. Please participate the demo as an individual.
Do not hand out any flyer which is not approved by Nikomikai. If you want to hand out the flyer in the demo, please ask for permission from Nikomikai staff such as our representative Kii, Jimakudaio and MC Cats' Matter.
Police will divide participants to several groups because of preventing disturbance to the traffic. We're currently expecting 5 groups. A sound-car leads the first group.
This World Wide Demonstration is peaceful and apolitical.
Please follow the directions of police and Nikomikai. Especially the police are there to protect us. Intersections will be under traffic restrictions, so we should cross the intersection in a hurry.
Media reports should only be done under the following condition.
If you publish the pictures and videos of the demo, you must show "日本と子どもの未来を考える会" and "nikomikai.net" on that report.
We strictly forbid interviews with demo participants.
We don't allow the media to interview with any Nikomikai member without permission in advance. We reject interview with no legitimate reasons.
Main assertions of the demo
Say "NO" to the vaccine passport !
Stop the fraudulent PCR test !
No COVID vaccine to children!
Let college students go to the school !
Say "NO" to the new normal !
We don't want mask-wearing society !
We claim also…
Mask don't do you any good but harm.
No scientific evidence of Novel Coronavirus.
No scientific background of infectious disease control.
No scientific background for reduced business hours and voluntary closing of shops or restaurants.
Vaccine doesn't do you any good but harm.
Even second time vaccination doesn't prevent infection.
Live Stream
Demo will be on air at https://twitcasting.tv/c:nikomikai
After The Demo
Our demo will be ended in Shinjuku Central Park again. Please interact with each other there. Nikomikai members and its supporters will join it until 5PM.
Other demos all around Japan
Please refer to World Wide Demonstration Japan Committee.
---